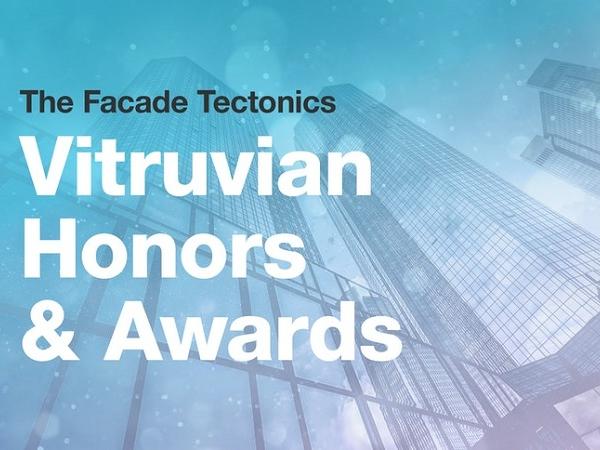 The Facade Tectonics Institute's Vitruvian Honors and Awards program celebrated outstanding achievements in the field of facade design and delivery.
Vitruvian Honors and Awards program recognized outstanding projects, as well as project teams and individuals that have made extraordinary contributions to facade design, engineering, fabrication, installation and lifecycle performance. The projects and contributions demonstrated the goals of the Institute in advancing the art, science and technology of designing, planning, and constructing high-performance building facades for the benefit of the planet and people.
FTI's Vitruvian Honors and Awards Committee worked collaboratively to develop seven distinct categories that are emblematic of The Institute's vision and mission and celebrate innovation, collaboration, and achievement within the AECO industry.
On December 2, 2021, attendees had the opportunity to learn more about each of the finalists and hear from our panel of judges for Vitruvian Honors and Awards. During an awards ceremony, an award recipient of Vitruvian Honors and Awards was announced in each of the categories. Scroll down to learn more about the winning projects and individuals for Vitruvian Honors and Awards !
And the winners of Vitruvian Honors and Awards are… 
Outstanding New Facade Winner
Apple Marina Bay Sands
Submitted by: Eckersley O'Callaghan Engineers
Runner Up:
707 Fifth-Manulife Place
Submitted by: Skidmore Owings Merrill
Outstanding Facade Renovation Winner
Arthur J. Altmeyer Social Security Administration Building
Submitted by: Snow-Kreilich Architects
Runner Up:
The Century Project at the Space Needle
Submitted by: Olson-Kundig
Outstanding Facade Preservation Winner
First Congregational Church of Long Beach
Submitted by: John Fidler Preservation Technology, Inc.
Runner Up:
1271 Avenue of the Americas
Submitted by: Pei Cobb Freed & Partners
Outstanding Facade Innovation Winner
San Francisco Museum of Modern Art
Submitted by: Kreysler & Associates
Runner Up:
K11 Musea Art & Cultural Centre
Submitted by: Eckersley O'Callaghan Engineers
Outstanding Facade Integration Winner
SUMMERS
Submitted by: Zas Lavarello & Associates Architects
Runner Up:
150 Fifth Avenue
Submitted by: Boston Valley Terra Cotta & STUDIOS Architecture
Collaborative Achievement Award Winner
The Structural Terra Cotta Mullion, a collaborative prototype design by HOK Facades, TriPyramid Structures, Josef Gartner USA/ Permasteelisa NA and Boston Valley Terra Cotta.
Unsung Hero Award Winner
Richard Barrett AIA
With 29 years of façade design experience, Richard is a specialist in detailing and 3D development in high performing custom curtainwall designs including cable net, glass fin, and hybrid steel mullions. He was an integral part of pioneering the complex curved exterior wall designs for projects like the Guggenheim Bilbao and the Marques De Riscal Hotel faced with the issue of 3D construction enclosure documents. His contributions in the production of high-performance multiple enclosure systems have proven his extensive knowledge. Richard Barrett is the classic "behind the scenes architect" that is rarely celebrated for the great works that were detailed by him.
Richard Barrett is truly an Unsung Hero of modern design over the last 30 years. As a Technical Design Leader responsible for the technical development and documentation of multiple project building systems, he has worked on the creation of facades of many great architects, including: Frank Gehry, Helmut Jahn, Jim Goettsch, Rafael Vinoly and Larry Booth. He specializes in the creative detailing and documentation of complex and custom enclosure systems and his technical expertise focuses in the delivery and coordination of large scale, complex projects through all phases of development. Richard has a long history in the delivery of high quality construction documents, and the administration of the project through construction.
Collaborative Achievement
The Collaborative Achievement award was presented to HOK Facades, TriPyramid Structures, Josef Gartner USA/Permasteelisa NA, and Boston Valley Terra Cotta for their joint development of The Structural Terra Cotta Mullion prototype. This monumental/lobby wall type system consists of glazed terra cotta with stainless steel tension rods and plates at the joint, a stainless steel gravity anchor assembly at the base, and a lateral anchor assembly at the head of the mullion.