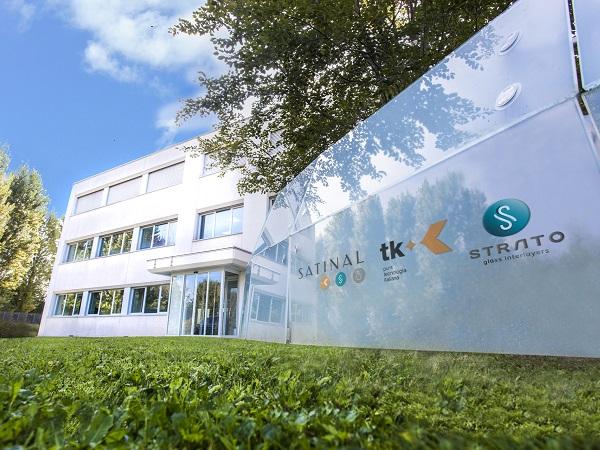 Satinal launches the most advanced technology learning hub for the chemical glass tempering & glass lamination industry.
The concept of European Center of Excellence is the essence of Satinal's continuous innovative ideas in safety glass technology.
"The House of Chemical Glass Tempering"
The most innovative European Chemical Glass Tempering centre for safety glass manufacture is Satinal-TK.
The brand-new centre, housing R&D activities, real tests on complete production lines and third-party processing is open to customers and it is the result of an R&D investment.
"The House of Chemical Glass Tempering" is a pragmatic sign of Satinal's vision.
Jointly with customers, industry, academia and research centres, Satinal opens the doors to create new solutions that anticipate the market needs.
Satinal R&D team is focused daily on developing innovative solutions in safety glass technologies. You can develop R&D in "The House of Chemical Glass Tempering" in joint collaboration with Satinal in order to enhance your technical knowledge of glass.
Satinal is a pioneer in developing innovative solutions for the safety glass industry, and in integrating Chemical Tempering, Lamination and Glass Interlayers in a single center of excellence. We are looking at the long-term future with new innovative projects in the field of safety glass manufacture with Industry 4.0/Smart Factory solutions.
As a globally recognized brand, Satinal is a synonym for safety glass technological innovation, reliable and value for money solutions, products and equipment, supplying innovative products, technical services and know-how.
Satinal is once again demonstrating its technological leadership in developing its safety glass ecosystem of products, ranging from the highest quality STRATO® Glass Interlayers, to the widest range of TK Glass Heat-treatment machinery in the industry, from small to big size, and to the innovative selection of accessories for the manufacture of safety glass, improving the daily life of glass operators.
The Italian ecosystem for safety glass manufacture created by Satinal allow every customer around the world to benefit from the synergies and innovative solutions developed by Satinal over decades of experience in glass processing. Now Satinal proudly become the European center of excellence for Chemical Tempering and Safety Glass manufacture.
Any customer interested in seeing and testing Satinal's solutions is welcome to visit Satinal factory in Italy: the only company in the world where you can see under one roof STRATO® EVA film production, an operating TK Chemical Tempering plant, TK Glass Machinery manufacture and the S-Lab R&D laboratory with a wide range of testing equipment for your laminated safety glass.
Contact us for any further information
E. customer@satinal.it
S. www.satinal.it
T. +39 031 870573