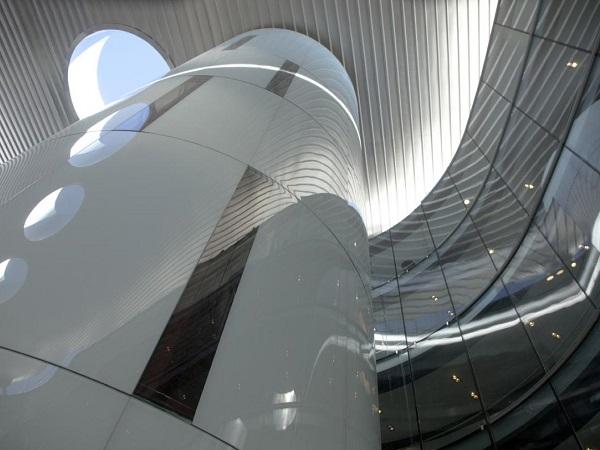 Cool White, Arctic Snow, Polar White. 30+ combinations. Encapsulated technology. The Vanceva® White Collection offers endless design options and years of durability.
White is sometimes considered the absence of color, but you cannot assume that there is only one version of white. There are warm whites with yellow undertones and cool whites with blue undertones. In the Vanceva White Collection, there are three base white colors:
Vanceva Cool White (color code: 000A)
Vanceva Arctic Snow (color code: 0009)
Vanceva Polar White (color code: 000F)
However, these three whites afford multiple design opportunities. They can be combined or stacked together or with other Vanceva color PVB interlayers, or they can be used with coated, patterned, fritted, acid-etched, or bent/curved glasses.
30+ combinations
White PVB interlayers make a great option for translucent laminated glass. Imagine street level office space with huge windows. It is great for letting in light; however, the windows can also be a distraction. Picture an open office space in need of partitions, but still providing a spacious, bright atmosphere. Glass partitions created with Vanceva white laminated glass fit the bill for offering levels of privacy. In both instances, whether for exterior or interior applications, the Vanceva white collection can provide the amount of desired privacy while still allowing varying amounts of visible diffuse light transmittance. Different levels of translucency create the perfect combination of privacy and light.
Our three different white interlayers, Cool White, Arctic Snow, and Polar White, offer a broad range of light transmission from approximately 80% all the way down to 1% with 18 steps of diffuse light transmittance in between.
Customizing layers
Designing with white provides a clean, crisp aesthetic that reads "high style." Designing with laminated glass with white PVB interlayers is an easy way to get functionality with a designer look.
The Vanceva White Collection offers a clean look that comes to life when used in conjunction with coated, patterned, fritted, acid-etched, or bent/curved glasses. It can be used with textured glass such as rippled, pebbled, or acid-etched, and can provide a fresh twist that allows the glass to take center stage for a sophisticated aesthetic. In addition, Vanceva whites can be combined with other Vanceva color interlayers to achieve the perfect level of translucence that is desired.
Often the solid white interlayer (Polar White, VCV 000F) is used between two color interlayers for a different color presentation on either side of the glass. For instance, the exterior side of the glass utilizes a bright orange interlayer and the interior an electric green. Using Polar White to its fullest opacity between the bright orange and electric green PVB interlayers ensures that the colors remain true—no muddying of colors will come through to the other side.
Stacking for function
Stacking up to a total of four PVB interlayers using a selection from the Vanceva White Collection with any of the Saflex® high performance PVB interlayers delivers the perfect combination of aesthetic and function.
Planning an interior balustrade in white? Layering Vanceva Arctic Snow with Saflex Structural ensures the strength and safety needed. Partitions between office spaces? Vanceva® Polar White paired with Saflex acoustic makes for a quieter, more private place to work or meet. In the right combination, the glass serves as your white board as well!
What to do about school windows where light and privacy are needed to reduce exterior distractions, and provide impact protection? Schools can be designed with large bands of exterior windows having translucent laminated glass containing Vanceva Whites. This can allow a satisfactory glow of daylight with reduced glare. Vanceva white PVB interlayers can also be used in combination with Saflex Storm products VS and HP to deliver enhanced impact protection. The stacking combinations are almost limitless for what can be accomplished using Vanceva Whites, Vanceva Colors, Vanceva Earth Tones and Saflex interlayers.
In most cases, interlayers are placed between two pieces of glass. However, multi-ply laminates, meaning more than two pieces of glass with layers of interlayers in between, can also be used to create exciting and protective designs. When in doubt, an Eastman expert can guide you to the best combinations for your project.
Locked-in brilliance
A lasting and important feature of the Vanceva white PVB interlayers is that the white you select remains the white you view, even over time. The stability of the white interlayer from the effects of aging is well documented through exposure programs and real life use since the 1950's for Arctic Snow and Cool White. Polar White is a newer addition (2011) to the white family; however, it has also shown excellent stability in its decade old lifetime.
To learn more about Vanceva interlayers, the flexibility of layering whites and colors or to use our simple color selector tool visit us online at vanceva.com. If you are still feeling curious – order a Vanceva® White Collection Kit or a single sample to view the product in-hand. Picture your project in dazzling white for the aesthetic, privacy, and function it demands.