The new furnace is a LandGlass UltraJetTM Tempering Furnace
LandGlass, together with Aries, their partner in Spain specialized in technological solutions for the production of safety glass, has just installed a tempering furnace, an UltraJetTM, at Cristalería Crevillente, a reference in the Spanish glass market, both in glass manufacturing and installation.
Cristalería Crevillente has opted, since its creation in 1972, for diversification in production, quality and technological innovation as a fundamental pillar of its growth. A growth, in accordance with its latest strategic plan, based on increasing tempering capacity and focused on being able to temper the most complex coated glasses on the market and with the best optical quality.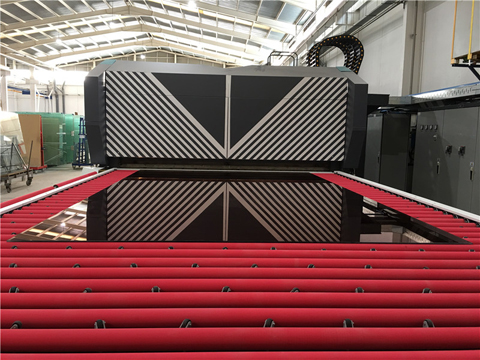 This Valencian family business has chosen Aries, deciding to invest on the latest generation LandGlass UltraJetTM Tempering Furnace for the remarkable advantages it offers. Among many others, these include easy and efficient heating of all glass types, especially low emissivity glass, optical quality of tempered glass and energy efficiency.
In this decision of Cristalería Crevillente, technological innovation and continuous improvement have been key, with the powerful R&D of LandGlass, a high-tech company dedicated to the research, development, manufacture and sale of Glass Tempering equipment. An example of this strength in innovation is the JetConvectionTM Full Convection Heating System. This technology was first patented in 2003 and it has now more than 1,000 installations worldwide.
Thanks to the R&D department of LandGlass and collaboration agreements with the main national and international universities and technological institutes, the JetConvectionTM technology has evolved year by year, achieving the highest values of homogeneity and efficiency in heating all glass types.
"Cristalería Crevillente aims to offer its clients the most advanced products on the market in any format, including Jumbo size, with the highest optical quality and a productive capacity that allows us to tackle the most ambitious projects of our clients. For this reason, we wanted to invest in a state-of-the-art Glass Tempering Furnace capable of tempering the most complex glasses with the best optical quality and the highest productivity," said José Luis García, Commercial Director of Cristalería Crevillente.
The LandGlass UltraJetTM has been developed to easily temper 100 percent of the glasses available on the market, even those with emissivity levels of 0.01.