The Messeturm Frankfurt is the second-highest building in Germany with a height of 265.5m and 63 floors.
It is located in the Friedrich-Ebert complex and is adjacent to the Frankfurt trade fair grounds. The Messeturm Frankfurt was built in 1990 in an Art Deco style and was considered the highest building in Europe at the time. The high-rise building Messeturm Frankfurt was designed by German-American architect Helmut Jahn.  
The fascination of curved glass covering 1,700 square meters.
For its 30th anniversary, Frankfurt's landmark was to be remodeled according to Jahn's plans and upgraded with the latest technology. Only a few minor but striking changes were envisaged by the architect for the conversion.
The base of the building features four semicircular bays made of curved laminated insulating glass for the facades and insulating glass for the flat roof.
The curved glass facade panels, with dimensions of 2.8m x 17m high, provide a spacious light-flooded lobby area that invites you to linger. The new café bar and the new restaurant are designed so that employees and visitors can enjoy both indoor and outdoor settings.
This is the first time in the world that laminated curved glass of such dimensions has been installed in a high-rise building. The laminated, curved facade panes of the "pencil", as the Frankfurt residents lovingly call the skyscraper, were artificially aged in order to minimize spring-back during the bending process.
The heat-soak furnace had to be adapted to accommodate the unusual size of the glass panels for this process. The 36-coat shaped insulating glass units with Double Vision print for the glass roof of the exposed bay windows complete the project and provide optimal solar protection.
The tower facade of Messeturm Frankfurt is made of polished red granite. The addition of the impressive glass rotunda now gives the tower a unique combination of traditional and modern elements.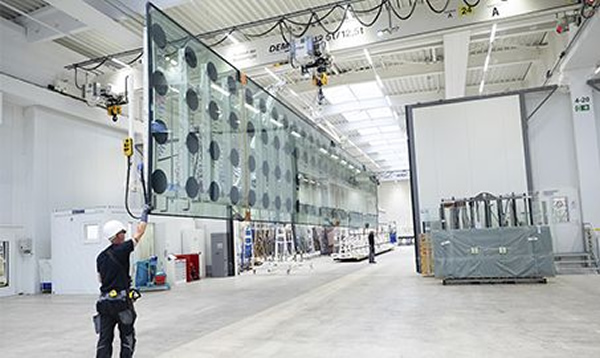 Owner
MesseTurm PropCo S.a.r.l.
Architect
Helmut Jahn, Matteo Thun & Partners
Scope of sedak
Facade glazing
– 36 insulating glass units | 2.8m x 17m | cold bent
Roof glazing
– 36 insulation glass units | up to 3.0m x 3.4m | ceramic ink, digitally printed, double vision
sedak skills in the project