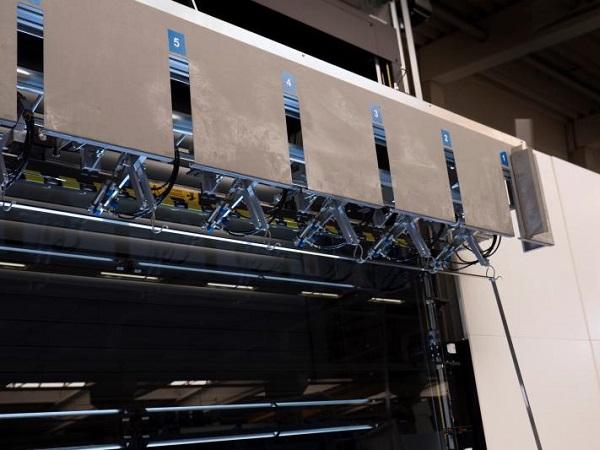 Capacity increase, a high degree of automation and a long-term customer relationship.
Capacity increase, a high degree of automation and a long-term customer relationship – all these factors favorably added up when Uniglass Polska made the decision to invest in new insulating glass equipment from Glaston.
For their new production hall in Łomża, Uniglass Polska, a company that mainly produces insulating glass, was looking for a solution that in addition to increased capacity would enable a higher degree of automation in insulated glass manufacturing. When the company was looking for a partner for a series of investments for their new production facility, Glaston was well positioned to meet the customer's requirements.
For processing the façade units the customer's choice was the B'JUMBO insulating glass line specially designed for manufacturing large-sized insulating glass units and façade elements. The line also contains new, automatic process steps for efficient and safe production.
"This project is another step to increase the rate of automation in the insulating glass unit (IGU) production. With the new line the customer can increase the productivity and efficiency, they can ensure a high-quality level of their IGU's and in addition, increase the safety level for the operators. Eventually this will help the customer to lower the production and maintenance costs", comments Marco Stehr, head of Glaston sales in Europe.
The total order also includes a B'VARIO 270 insulating glass line, the individually configurable production line for insulating glass units with conventional spacers, as well as an arrissing machine and handling equipment. The orders are booked in Glaston's Q1 and Q2 2020 order book and the Q1 orders were included in Glaston's January −March 2020 Interim Report. The IG lines are scheduled for delivery in Q3 and Q4 2020.
UniGlass Polska has consistently pursued a dynamic growth strategy in providing high-quality glass and being a reliable supplier with short delivery times for its customers. Since the foundation in 2001, Uniglass Polska has relied on Glaston's technology and the company runs several Bystronic IG lines as well as one Glaston FC 500 tempering line. Constant quality control and a careful selection of suppliers have enabled the glass processor to develop and to meet the requirements of a wide range of customers in Poland and abroad.