An inspired blend of creative architecture, engineering, and technology combined with innovative building materials led to the creation of a magnificent new Skywalk at Grand Canyon West's Eagle Point in northwestern Arizona.
The Grand Canyon is a destination for millions of travelers worldwide. Now visitors can step out on the new U-shaped Skywalk observation platform and stand on glass flooring suspended 21.336 m (70 ft) over the grand canyon and 1219.2 m (4,000 ft) above the Colorado River. They experience the sensation of floating high above the grand canyon, without visible supports, for a clear panoramic view of the scenic area usually the domain of eagles and hang gliders. Located on the West Rim of the grand canyon, the Skywalk opened to the public March 28, 2007.
Putting Science to Work: The Possible Dream
From concept to completion of the ambitious two-year project, the building of the Skywalk meant combining the talents of architects, engineers, construction experts, glass suppliers and laminators using high-performance materials. These materials are critical to the safety and security of people at high altitudes in the grand canyon's harsh environment. Strength, stiffness, and optical clarity all contribute to visitors' viewing experience.
An ultra-clear SentryGlas® ionoplast interlayer was the material of choice to meet these tough challenges.
SentryGlas® glass is a high-performance material with structural properties designed to withstand high winds and weight loads and to meet high security standards for blast mitigation. These properties allow SentryGlas® to be used in places where glass could never be used before.
The 54.08 mm (2 1/8 in) thick glass decking of the Skywalk, 3.048 m (10 ft) wide and 21.336 m (70 ft) deep, is a multilayer glass construction with four layers of SentryGlas® and five layers of Saint-Gobain Diamant glass.
Careful Analysis and Performance
Analysis conducted by Kuraray Glass Laminating Solutions (formerly DuPont), Saint-Gobain and structural engineering consultants demonstrate that the laminated glass floor can hold the weight of up to 120 people and maintain a top safety rating in high winds, at times reaching 160.93 km (100 miles) per hour.
High safety standards, clarity and attractive appearance are hallmarks of other installations incorporating SentryGlas®.
This material was chosen for a number of innovative, award-winning projects worldwide. Among others…
Ultra-clear viewing panels for the Top of the Rock observation deck at New York's Rockefeller Center
Wind and bomb resistant windows for the Miami, Florida U.S. Federal Courthouse
Glass staircase steps and balustrades in a number of Apple Stores worldwide
The uniquely designed Shanghai Oriental Arts Center in China
Surrounded by the Grand Canyon
Expanding technology and advanced materials puts science to work for millions of people worldwide who will experience the vast panorama of the Grand Canyon in a new, exciting and safe way.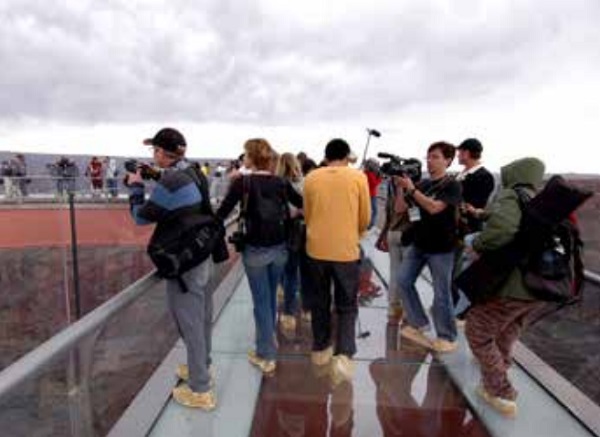 Approximately 544.31 kg (1,200 lb) of glass used in Skywalk construction
Skywalk hangs about 21.336 m (70 ft) out over the canyon; structure measures 19.812 m (65 ft) wide and walkway is approximately 3.048 m (10 ft) wide with a path 42.672 m (140 ft) long start to finish
More than 453.6 metric tons (1 million pounds) of steel used in the overall construction of the box beams
Two steel box beams support the structure; box beams line both the outside and inside of the structure, measuring 0.813 m (2 ft 8 in) wide by 1.829 m (6 ft) deep
Eight concrete columns reinforced with cement and rebar support the structure; more than 108 holes were drilled 9.144 to 12.192 m (30 to 40 ft) into grand canyon bedrock and filled with the cement and rebar
Lighter façade panels enable more subtle supporting structures
For decades, interlayers made of polyvinyl butyral (PVB) have been the industry standard when producing laminated safety glass. Architects are well aware of the possibilities and limitations of such glass when used extensively in façade engineering, for roofing and window panels. In contrast, SentryGlas® enables an entirely new approach because the interlayer is over 100 times stiffer and five times stronger than PVB.
As a consequence, there is an almost perfect transmission of load between two laminated sheets of glass, even at high temperatures, leading to the excellent flexural behavior of the glass when under load – also under direct sunlight in high summer. Accordingly, laminates with SentryGlas® show less than half the rate of deflection when compared to laminates with PVB, when under the same load, and thus almost the same behavior as monolithic glass of the same thickness.
As well as improved strength and stiffness, other benefits of SentryGlas® include:
Safety: In the event of breakage, glass fragments remain firmly bonded to the interlayer, reducing the chance for injury
Security: SentryGlas® can be used in glazing that withstands bullets, hurricane-force winds and even bomb blasts
Durability: SentryGlas® is extremely durable and resistant to clouding, even after years of exposure
Design Versatility: SentryGlas® can be used in glass manufactured flat or curved, including annealed, toughened, heat-strengthened, spandrel, wired, patterned and color tinted glass
UV control: SentryGlas® is available with or without UV transmittance
For further information about SentryGlas®, please visit www.sentryglas.com