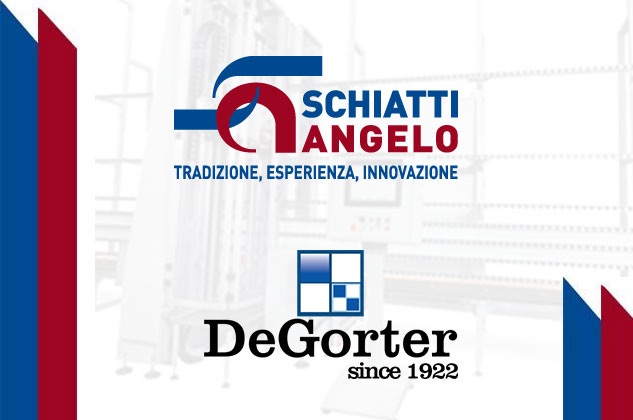 A company as Schiatti is, specialized in the manufacturing of machines for glassworks and for glass processing in general, has a market localized both in Italy and abroad.
Choice of partners for the selling of our machines for the glass processing
For us it is important not only to sell a machine for glass processing but to make sure the customer who buys it is satisfied and provided, abroad as well, the same service he would receive in Italy. For this reason, we have carefully selected our abroad sales partners, defining their areas of operation and establishing together homogeneous procedures.
DeGorter Inc.: strategic partnership with a successful company in the glass field
DeGorter Inc. based in Monroe, North Carolina (USA), is a single-source supplier for companies that are in the glass field and Schiatti's agent for USA, Canada and Caribbean areas. DeGorter is a family owned company whose success is due not only to the quality products and services provided, but also a commitment of generations of professionals.
DeGorter's success started in 1922 with Daniel DeGorter, founder of DeGorter Inc., then with his son John and after, John's sons Peter and Daniel. In 2018, Peter's son Pete stepped up and manages the company alongside Daniel. What has been constant through all this time are the quality, serviceability and efficiency of their products.
Machines for the glass processing: the technological progress
An integral part of the services provided by a supplier is to constantly arrange the seeking and implementing of the most up to date and high-performance technological solutions for their customers.
Again, DeGorter and Schiatti agree during the years the best technological innovation have been undertaken for the customers as well as offering extra services, such as diamond wheel redressing and polishing wheel profiling. Additionally, they provide machinery service and rebuilding in house. These maintenance/rebuilding services are possible thanks to the longevity of Schiatti glass machines.
The long partnership between DeGorter and Schiatti
John deGorter and Angelo Schiatti met about 50 years ago at an international exhibition. Mr. Schiatti spoke no English and Mr. deGorter spoke no Italian, so the story goes that they communicated through John's Wife, Denise, through a mix of Spanish and French. The long partnership between the two companies belonging to the glass field was born and since has been going felicitously thanks to a perfect complement by both regarding technological improvements and strong focus on service.
Partner in post-sale assistance and service
A prime post-sale service is a point that compels both Schiatti and DeGorter; that's why they constantly ensure a technical support "on site" in order to always keep a high machines performance. Among the Schiatti machines for glass processing offered by DeGorter there are:
Turnover units for glass processing lines
A highly versatile and inexpensive solution compared to industrial robots is the turnover unit. It allows to join two or more machines to automatically process glass sheets of different thickness and sizes without the operator's involvement.
Glass drillers TFV 2000 and FPD
Glass drilling solutions that can be used as independent units or joined in processing lines.
Double edgers BFT & BFP
Ideal for mass production, the machines process simultaneously 2 sides of the glass-sheets obtaining various glass profiles and finishes
Straight edgers AR/RI, FPS and SME
Straight grinding machine to process pencil, Ogee, waterfall edges (AR/RI Series) and flat with arris edge (FPS) able to process small stripes and different thicknesses.