Experimental, exceptional and innovative, glass buildings
Experimental, exceptional and innovative, glass buildings are the epitome of design. Stunning, and eye-catching, these buildings punctuate Asia's skyline and cityscape, providing cities throughout the region with a much more articulate and expressive profile.
Visually arresting yet structurally strong, glass offer buildings a unique look and feel that cannot be replicated with other materials. Since the 1850s, glass has been a favourite among architects and designers as a means of opening a building to its environment. Whether it is used to reflect or diffuse light, carved with intricate designs or playfully distorted to provide perspective and play, glass offers architects and designers countless opportunities to integrate a building's façade with fluidity that no other material can.
Throughout Asia, the region's skylines and cityscapes are dotted with many awe-inspiring glass buildings that are breath-taking. From Singapore, Malaysia and Thailand to China, South Korea, and Japan, Asia is home to a dizzying array of towering glass skyscrapers, glasshouses and glass structures that capture people's imaginations.
Eight of these notable buildings and structures in Asian cities that have adeptly used glass in their architectural design are:
Mahanakhon Skywalk, Bangkok
Soaring at a height of 314 meters, with glass floorings that extend over the edge of the building, Bangkok's Mahanakhon Skywalk is the ultimate destination for daredevils, adventure and thrill-seekers. The latest architectural destination to join Thailand's dazzling skyline, the Skywalk adds King Power Mahanakhon to the city's list of some of the tallest glass skyscrapers.
The Glass Fortress, Bangkok
A sanctuary enclosed by 20,000 glass bricks, The Glass Fortress serves as a sales gallery for a private residential project in Bangkok. Using glass blocks to develop the façade, the 457-square meter space offers discerning visitors cool air and filter unwanted noises. The aptly-named project has been shortlisted for the 2019 Deezen Awards' Business Building Category.
National Grand Theatre, Beijing
Colloquially coined "The Giant Egg", the National Grand Theatre of Beijing, also known as Beijing National Center for the Performing Arts, is truly a marvel of fenestration design. Like eggshells, the massive 68,400 square feet insulated laminated glass façade holds up the entire building with strength and elegance. The cultural destination designed by French Architect Paul Andreu, features a clear glass curtain wall on the centre of its façade which looks as though its shimmering mirage has been parted to reveal the stage inside.
Galleria Department Store, Gwanggyo
Drawing inspiration from nature, OMA Architect's newly erected Galleria Department Store sports a stone-like structure infused with a multifaceted glass façade that appears to be wrapped around the building. Sporting 4,330 glass discs that glow during daylight, the building is a mishmash of sustainable and industrial design styles.
Kanagawa Institute of Technology, Kanagawa
A translucent temple of tertiary education, the Kanagawa Institute of Technology is designed with 21st Century learning in mind. Featuring floor-to-ceiling glass panels throughout its space, supported by 305 white pillars arranged throughout its interior, the university offers tertiary students, academic and administrative staff a conducive, open environment.
Audi Forum, Tokyo
With its angular crystalline form and ultra-urban look, the Audi Forum, which sits between two of Tokyo's most popular shopping districts Harajuku and Shibuya, stands out from among the rows of brick-and-mortar buildings. Nicknamed "The Iceberg", the 52.43-meter glass structure comprises three types of laminated glass panels that are also coloured in shades of blue to enhance the overall effect on the edges of the building, making it look like a giant crystal.
High-heeled Wedding Church, Taiwan
Literally a glass slipper, Taiwan's High-heel Wedding Church is an artistic composition that received a Guinness World Records certification as the world's largest uniquely shaped structure in 2016. Comprising 320 pieces of blue-tainted glass and 1,269 steel structures, the church serves as an iconic touristy site, wedding venue and a romantic photo-shoot location.
Petronas Twin Towers, Malaysia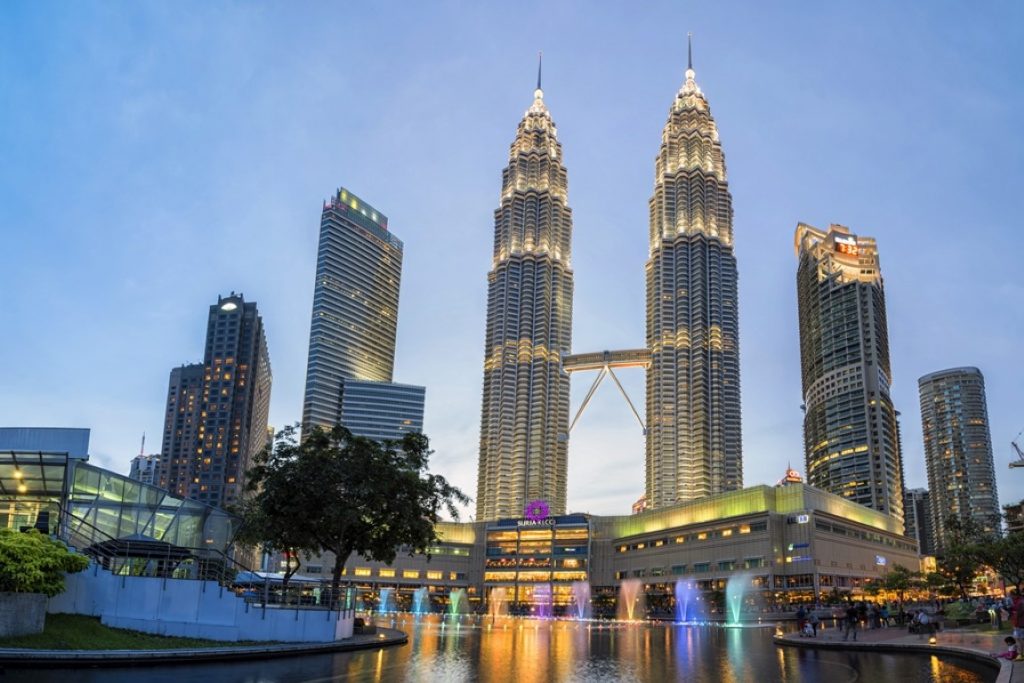 An icon of engineering, architecture and fenestration design, the Petronas Twin Towers pierces Malaysia's skyline. Soaring 451 meters into the vast blue skies, the iconic Petronas Twin Towers is dressed in 77,000 square meters of laminated glass.
---
Article courtesy of Glasstech Asia