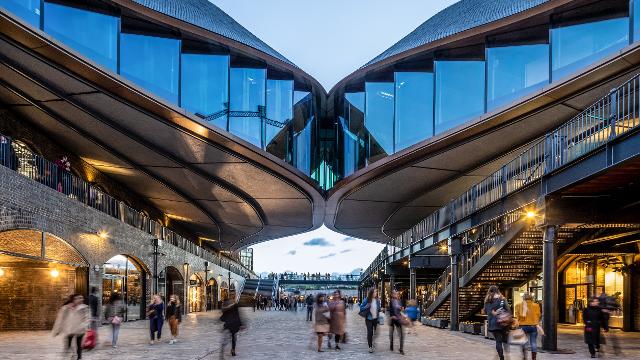 Coal Drops Yards is London's newest shopping and dining district.
AGC's ipasol Neutral 70/37 high-performance glass was chosen to glaze the focal point of Coal Drop's Yard, London's newest shopping and dining district.
Located a stone's throw from King's Cross Station, developer Argent, engaged world-renowned designer Thomas Heatherwick and his studio to convert and extend two Victorian industrial buildings (former coal depositaries) and their surrounding area into a unique urban and retail destination.  
Heatherwick Studios has re-imagined the east and west gabled roofs into a single connected 'kissing' roof to create a stunning centre-piece with a lightweight, floating appearance that belies the sophisticated engineering behind it.
Coal Drop's Yard marks the first major UK building completion for Heatherwick Studios ahead of the highly anticipated Google Headquarters also in King's Cross.
AGC ipasol coating was chosen thanks to its solar and thermal properties balanced with a neutral appearance. ipasol Neutral 70/37 glazing allows a high level of natural light to enter the building (70%) whilst blocking out 63% of solar gain to prevent overheating. The glass units are comprised of two panes of laminated safety glass each, for structural reasons, greater than 16mm thick.
Low iron extra clear glass and a neutral energy efficient coating were chosen to ensure the glass would retain its light, transparent appearance in line with the architecture intent of the 'floating' roof. AGC's specification team worked closely with the studio to provide the optimum solution taking into account aesthetic requirements, energy performance, and structural requirements due to the large dimensions of the glazing units (6m high).
Building Name: Coal Drops Yard
Application: Exterior
Architect: Heatherwick Studios
Year: 2019
City: London
Country: United Kingdom
Products: ipasol